Why marketing automation is important?
Before we consider why marketing automation is important to businesses, we must first clarify what marketing automation is!
Marketing automation is the autonomous delivery of time-consuming tasks that are important but can be missed in favour of more day to day priorities.
Image source: Hootsuite.com
What tools can help automate marketing activities?
An example of this in an SEO agency is the manual checks required on websites, so agencies often opt for tools like SEMrush or SEO Powersuite to complete rank and health checks alerting them to the important changes.
With social media manual tasks such as posting at optimum times can be handled by tools like Hootsuite, that schedule and autonomously post these across the various social networks.
For email we see tools like Mailchimp that help collate and manage lists of subscribers, it also allows the WYSIWYG email builder, which saves time with hand-coding emails and testing them - It provides a testing solution as well to pretest your mailer in various computer and mail client configurations.
Better still, mail chimp allows companies to integrate their subscription forms into their websites, this then negates the manual task of adding an email to a list.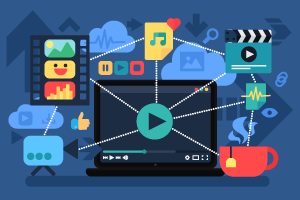 So why is marketing automation important?
Because it provides marketing departments and businesses with the ability to simplify the process and focus on other tasks that mean they can focus on creativity and ideation rather than the mundane activities that are needed but loathed by teams or business owners, who can be time-poor.
Five reasons automation is important?
One - It saves time, this increased productivity allows for greater creative thinking
Two - It ensures that tasks are consistently delivered aiding growth
Three - Improves ROI in most cases as the time cost is reduced
Four - Improves business profits as the overheads are reduced
Five - Improved user experience, around communication and results
Marketing growth hacks can help!
When you are starting out, time is always precious and your time in a business is finite so if you can measure it or save time your billable hours can increase without over facing yourself with administrative tasks that may not actually be billed, perhaps calls, reporting and other follow-up activities.
In an agency
If you are a graphic designer for example you may find it useful to track your time using a solution like billings pro, and this will leave you freer for using LinkedIn or other social media channels to nurture relationships and promote your business.
If you would like to discuss your Marketing to support your existing or simply to give yourself more time to focus on your business then enquire or call us on 08451 303 505.